I have been installing Ubquiti Unifi Wireless Access Points (WAPs) for about 7 years now. We started by receiving our first shipment of 2 Unifi UAP WAPs that were powered by individual power-over-ethernet injectors. We found them to perform very weel, and easy to configure and manage. Today we are still using the latest WAPs from Ubiquiti, even in environments where we aren't using Ubiquiti firewalls and switches, though it does make management even easier when using the matching firewalls and switches.
You can easily identify the new WiFi6 WAPs from Ubiquiti using the prefix U6, and they make different form factors and sizes based on your needs. This article is to help you determine the best unit for your needs, because WiFi6 doesn't give you an automatic boost in speed and reliability simply for being WiFi6. The WiFi6 definition is that the WiFi signals you will be able to use are both in the 2.4GHz and 5GHz spectrums simultaneously, where as WiFi5 (WiFi AC) can only operate one spectrum at a time. There are still technical factors on each WAP that will determine the overall performance of your WiFi network.
Before we get into the details, you can find links to all the entire U6 line of products at Amazon at the bottom of this article.
Commercial or Residential Use?
First, will you be using your WiFi network in a commercial setting or a residential setting? We always in new construction, whether it's commercial or residential, run CAT6 or CAT6A throughout the building so we don't have to use poor performing wireless meshing systems. Remember, new construction will have an incredible amount of framing an insulation, which will effect your WiFi performance. The main difference between these two are density. Remember, the amount of WAPs in your network is theoretically limited to the amount of network addresses available in your network. If you configure a subnet mask of 255.255.240.0 (/20), you could install 1,000 WAPs and still have room for over 3,000 users on a single network
A custom home framing structure before insulation (January, 2023).
There is almost 2x more framing used in modern homes than just 40 years ago.
In your typical residential situation, you may have 2-5 users daily and up to 30 devices connected at the same time. It may sound like a lot, but most of those devices are a part of the Internet-Of-Things (IOT). These include light bulbs, thermostats, WiFi cameras, etc. These will not use a lot of data, but phones, tablets, and computers will.
Commercial Applications
In commercial settings, you will have a exponentially larger amount of devices including phones, tablets, and computers connecting to the network. The average retail coffee shop can have up to 50 devices on the guest network at a time. You will want to make sure your WAP is designed to handle that amount of heavy-use devices at a time. For this, you want to make sure you have more channels in and out to support more users. You can easily see the radio channels in and out by reading how many radios in and out a WAP has, which is typically 2×2, 3×3, or 4×4. For your typical coffee shop seating 20-50 users, the U6 Enterprise will be your best option, as not only does it boast a 4×4 radio on all frequencies, but it also supports the latest 2.5 GbE ethernet input. This allows more than double the bandwidth leading into the WAP from your Internet provider than the other models available. If your ISP can give you more than 1GBps Internet, then take it!
That is our take on public commercial applications. If you run a small coffee shop o your own restaurant, the U6 Enterprise is the best option to offer spatial guest WiFi to all your guests without compromising performance.
Residential Applications
We started in 2022 no longer installing ceiling-mounted WAPs for our custom homes. We now run CAT6 to all rooms in preparation to install an in-wall WAP. Why would we plan to install a WAP that doesn't have the strongest radio or fastest ethernet interface? We have two reasons for this, it allows for better throughput and is aesthetically pleasing to not have a WAP on the ceiling. YES. it does improve data throughput by installing a WAP in every room even if it isn't the biggest fastest available.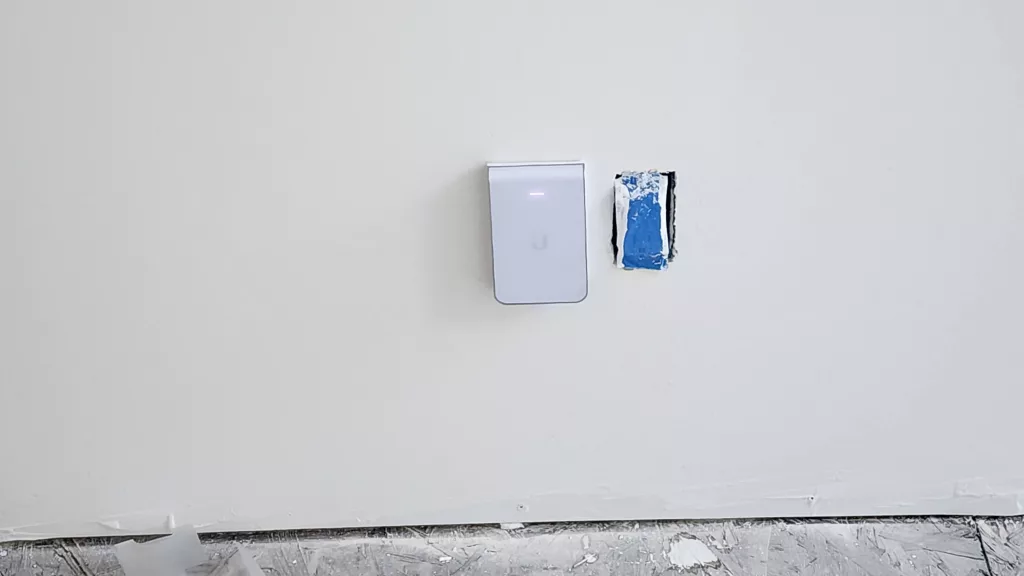 A new in-wall access point installed at a custom home next to a power outlet.
This allows WiFi to originate in every room for best performance.
This house is still under construction at this time (April, 2023).
Remember us talking about all the framing that goes into building a new custom home? If you have a large powerful WAP in the center of each floor of your home, it may be capable of reaching all your devices on that floor, but you will still only have one ethernet feed for all those devices. Installing more WAPs will translate into less devices per WAP, increasing the performance of each device connected to your network. Switches are much more efficient at negotiating network traffic than a single WAP.
Recommendations & Technical Info
Below we have listed all of the available U6 line of WAPs and how to buy them. We have also posted links to switches and PoE injectors to make sure you get these powered and connected properly. Only the U6 Pro comes with a PoE injector.
U6 Lite
U6 Pro
U6 Long Range
U6 Enterprise
U6 In-Wall
U6 Mesh
2.4 GHz: 2×2 @ 23 dbm
5 GHz: 2×2 @ 23 dbm
6 GHz: N/A
1 GbE
2.4 GHz: 2×2 @ 22 dmb
5 GHz: 4×4 @ 26 dbm
6 GHz: N/A
1 GbE
2.4 GHz: 4×4 @ 26 dbm
5 GHz: 4×4 @ 26 dbm
6 GHz: N/A
1 GbE
2.4 GHz: 4×4 @ 22 dbm
5 GHz: 4×4 @ 26 dbm
6 GHz: 4×4 @ 26 dbm
2.5 GbE
2.4 GHz: 2×2 @ 22 dbm
5 GHz: 4×4 @ 26 dbm
6 GHz: N/A
1 GbE
4x 1 GbE Out
2.4 GHz: 2×2 @ 22 dbm
5 GHz: 4×4 @ 26 dbm
6 GHz: N/A
1 GbE

Best Application:
Best Application:
Best Application:
Best Application:
Best Application:
Best Application:
Basic WiFi needs in a
small home or office.
Not worried about
bandwidth or range.
Normal WiFi needed in
an office environment.
Multiple users with fast
access to Internet &
internal servers.
Best for homes and
businesses with multiple
users, and IoT devices
such as Ring and Nest
products.
High-density guest
environments requiring
high bandwidth for
multiple phones, tablets,
and computers.
Homes & offices with an
average 2 people in a
room at a time. Also
great option to power
VOIP phones.
High-density outdoor
environments.
Install 1 for every
1,000 sqft.
Install 1 for every
1,000 sqft
Install 1 for every
1,000 sqft
Install 1 for every
1,000 – 2,000 sqft
Install 1 in each room
or office
Install 1 every 600 ft
for outdoor use.
Need a Switch or Accessory for Your WAPs?
You may need to pickup a switch or firewall to go with your WAPs depending on how many you are looking to install. The UDM Pro firewall supports Internet connections up to 10GBps, the USW switches will as well power and connect all your WAPs into one network. If you have a question about switches or a more advanced custom solution, send me an email to admin@clack.tech.
Pickup the UDM Pro Special Edition to get a 10GBps firewall and 8-Port PoE switch in one unit! The built-in switch has plenty of power to handle 8 WAPs, and the capacity to host over 1,000 devices at a time. If you're a small operation, this firewall could last you almost 10 years.
If you're only going to use one WAP, a USW switch may be overkill. Chances are you don't need to spend a few hundred dollars on a managed switch. This PoE Injector will do the job perfectly when only installing one or two WAPs. You will need one for each WAP you're installing.
In summary of the above talking points and recommendations, I continue to use the Ubiquiti WAPs in all applicable networks I manage across the US. I use them in environments with firewalls from Cisco and SonicWALL with great results, and their performance in high-density environments with over 500 users is absolutely amazing. For the level of performance and price points, you will not find any other WAP solution on the market that can match these.