A UPS is essential to keeping your network equipment running and safe from power fluctuations.
Here at ClackTECH, a majority of our network installations use wall mount rack enclosures. This places a limit on the size and weight of equipment that can be installed. The standard equipment depth limit for floor standing enclosures is 23″ to 36″, while wall mount enclosures are limited to no more than 21″ on average. There are some vertical racks, such as the TrippLite SRWF6U36, that have a deeper equipment clearance, but you're also limited to only 6 rack unit spaces. The average system with firewall, switches, batteries, and CCTV equipment will use between 12 and 18 rack units.
Our Favorite Reliable Rackmount UPS Batteries
Recently, CyberPower released a new rackmount format of their CP1500PFC backup battery and we are loving it. It's reliable, has a good runtime under heavy load, and only takes up 2 rack units. The image to the right shows a recently finished installation where we used 2 batteries to power 64 cameras and network equipment.

We were able to achieve 45 minutes of runtime for the entire network. The batteries have a screen that shows incoming power, battery level, and approximate runtime. At under $400, the price point will be easy to digest, especially at a time when most items are going up in price.

This battery does offer a port for optional SNMP management for remote monitoring. You will be able to configure notifications and logging of power events on a remote server using the optional CyberPower RMCARD205.

We will continue to recommend and install this battery in the future. The most important feature, it keeps running when the power goes out.

Dual CyberPower CP1500PFC Rackmount Batteries powering a 64 camera system in a compact rack installation.
Purchase this battery at Amazon – This is where we have found the best price for it.


CyberPower CB1500PFC Rackmount UPS – 2U Size
Our Favorite Reliable & Compact Short-Depth UPS Batteries
To the right is another great option offered by CyberPower. This battery only takes 1U of space, but still offers great load capacity for equipment that demands power. We use these batteries in IDF closets to power extension racks. The primary use of these batteries is to provide optimal runtime for individual switches for power outages. This could be used in a vertical rack or a standard wall-mount rack to power 1-2 PoE switches.

With this unit only taking up 1U of space, you can easily fit in ultra-tight spaces! We were able to find this compact 2U steel rack by Kenuco, that also has a built in fan for cooling. It's large enough to house a 48-port PoE switch, and The CyberPower 1500VA battery in this line of UPS batteries. I am placing a link to both of these items below.
Purchase this battery at Amazon – It's available in 500VA, 700VA, 1000VA, and 1500VA sizes based on your load needs.


CyberPower OR1500LCD Rackmount UPS – 1U Size
---
For ultra tight spaces, here is the Kenuco 2U Locking Vertical Rack Cabinet. I am fond of the clean look this cabinet has, the built in fan to provide active cooling, and the predrilled holes in the sides and back allowing flexible options of how your cables will enter the cabinet. This is a good option for IDF closets with limited space.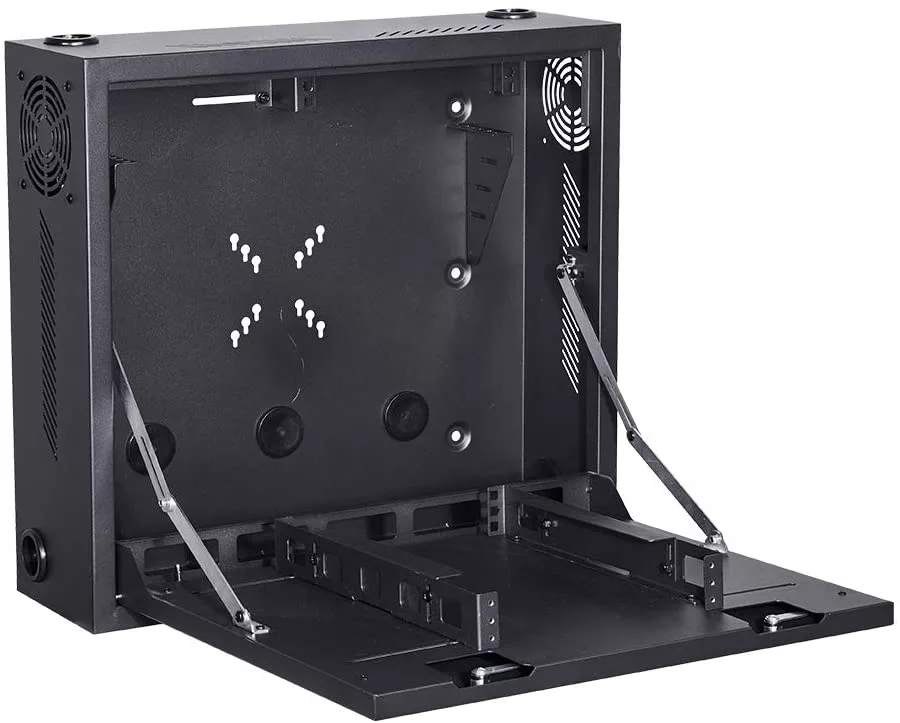 Purchase this rack at Amazon
I hope you've found the information above helpful for compact UPS battery solutions. If you would like any further recommendations or questions regarding an existing project, you can reach out to ClackTECH anytime at 469-708-0017!
ClackTECH is not affiliated with CyberPower nor Amazon, recommendations written by James Clack are made based on his own analysis of products. Opinions may change over time due to shifts in quality of the products mentioned in our tech blog.